On the trail of the Duke of Burgundy in West Sussex - Michael Blencowe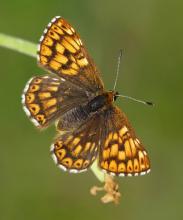 This year Sussex Butterfly Conservation was delighted to work with the Arun & Rother Connections (ARC) project to deliver a series of butterfly walks. This Heritage Lottery funded project has been busy restoring and reconnecting wildlife habitats along the two West Sussex rivers as well as connecting local communities to their local environment and wildlife.
As part of the project I ran a series of identification workshops and walks. After a few wash-outs last year I had promised myself that all the events in 2016 would coincide with perfect weather and I was off to a great start when temperatures hit 24 degrees on May 8th - dare I say it was too hot? A team of keen lepidopterists joined me in Sutton Village Hall for a lesson in butterfly identification. After a gallop through all 45 Sussex species (who wants to be indoors on a day like this?) we headed out into the sunshine. There's some great countryside around Sutton; a great outdoor 'classroom' to get to grips with some of our more common species and their food plants, as well as a chance to have lunch amongst the bluebells.
On 15th May I led a walk on Graffham Down. Graffham resident Jim Kirke announced on the Graffham Village Facebook page "If you have never seen Michael Blencowe get excited, this Sunday is your chance". He was referring to the possibility of us seeing the Duke of Burgundy which Neil Hulme had discovered on the Graffham reserve a few days earlier (at least I hope that was what he was referring to). Up on the Downs I gave a quick introduction to the Duke before we all began our search. It was Margaret Newton who made the momentous discovery. She asked Graffham Down Trust's Paul Dimmer if he had a picture of the Duke and Paul showed her the butterfly on his identification chart. "Oh, so it's a bit like that one there then" Margaret said, indicating a small butterfly perched in front of them. No doubt everyone in Graffham village (and probably Petworth too) heard Paul's shouts echoing around the South Downs and we all hurried back to where Paul was pointing at a Duke. Fantastic news that the Duke is back on Graffham Down and Jim was right; 30 people got to see me get very excited.
At the end of June Colin Knight led a walk around Iping and Stedham Commons – the Sussex strongholds for one of our rarest butterfly species; the Silver-studded Blue. Many of these beautiful butterflies were seen as well as other wildlife; Common Heath moths, Four-spotted Chaser dragonflies, Green Tiger Beetles, Slow-worms and Woodlarks. 
I ran another Arun & Rother Connections butterfly identification workshop on June 25th at the fantastic Warnham Nature Reserve – but my luck with the weather was running out. It was apparent that 2016 was not a great year for butterflies and the weather on the day didn't help!
By July 10th my luck had finally run out. My walk on Graffham Down was a wash-out marked by an endless downpour. However a few brave souls joined us and South Downs National Park's Bruce Middleton delivered a fascinating commentary on the flora of the reserve.